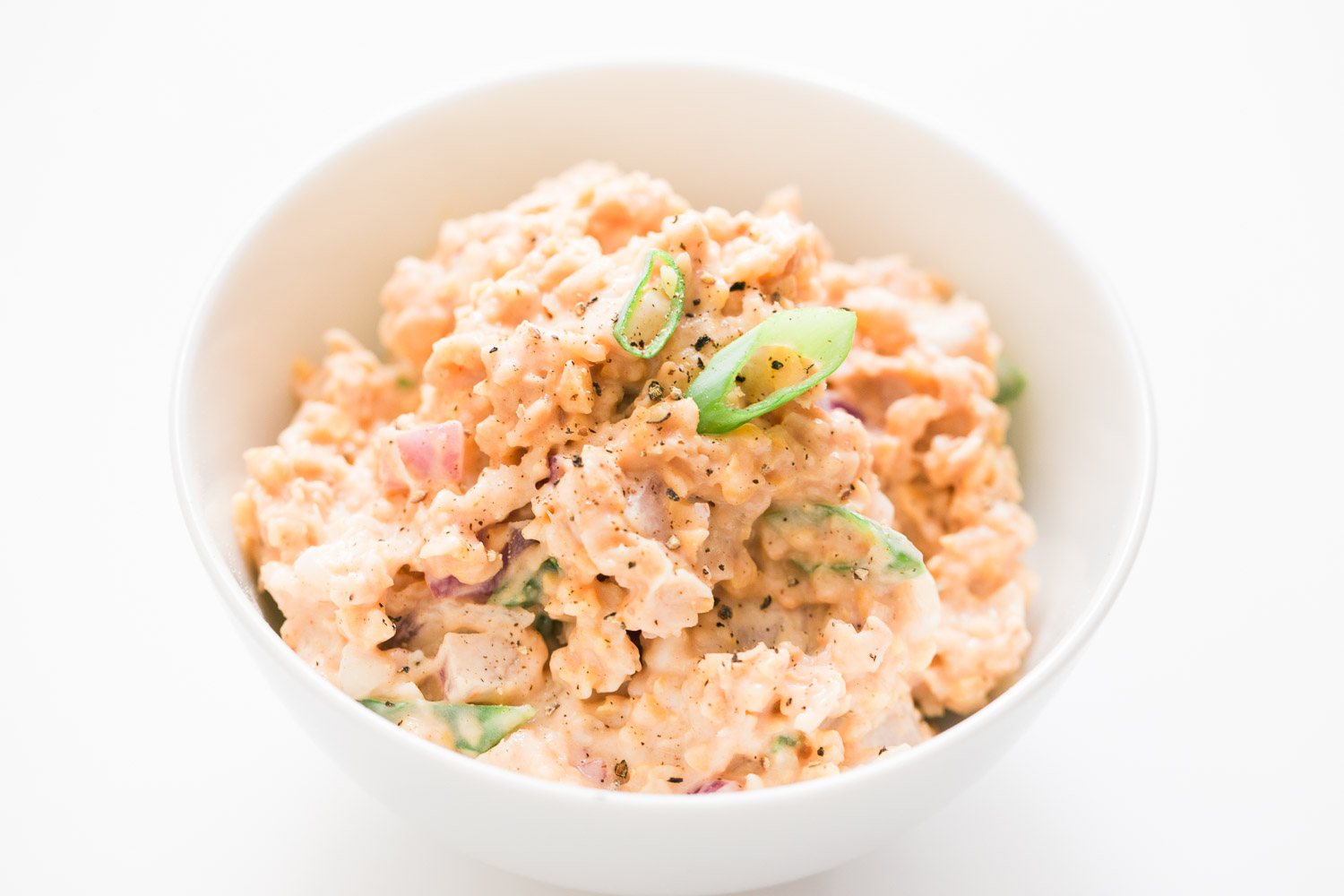 This vegan tuna mayo recipe is about to become your new staple, quick-fix snack, best friend! It literally takes 5 minutes to whip up, and it's another super versatile vegan staple that you can eat in loads of different ways.
The first thing that comes to mind, of course, is the almighty tuna sandwich with lettuce, pickles and slices of tomato. Maybe even pan-toasted!
Or what about a gorgeous vegan tuna salad with fresh, ripe, cherry tomatoes, arugula / rocket, basil, cucumber, apple and sprinkles of sesame seed?
Oh my, what about on slices of bruschetta as a finger food delight!?
Maybe you'd like to add this vegan tuna to a steaming hot baked potato with some spring onion, sundried tomato and freshly cracked black pepper? Now we're talking!
Want something warmer for the winter months? Let us succumb to visions of an oven-fresh, piping hot tuna-less tuna noodle casserole with a creamy vegan cheese sauce…
(Vegan cheese sauce? YES! It's a thing. And it's real. And it's uh-may-zing. Another 10 minute recipe – coming soon!)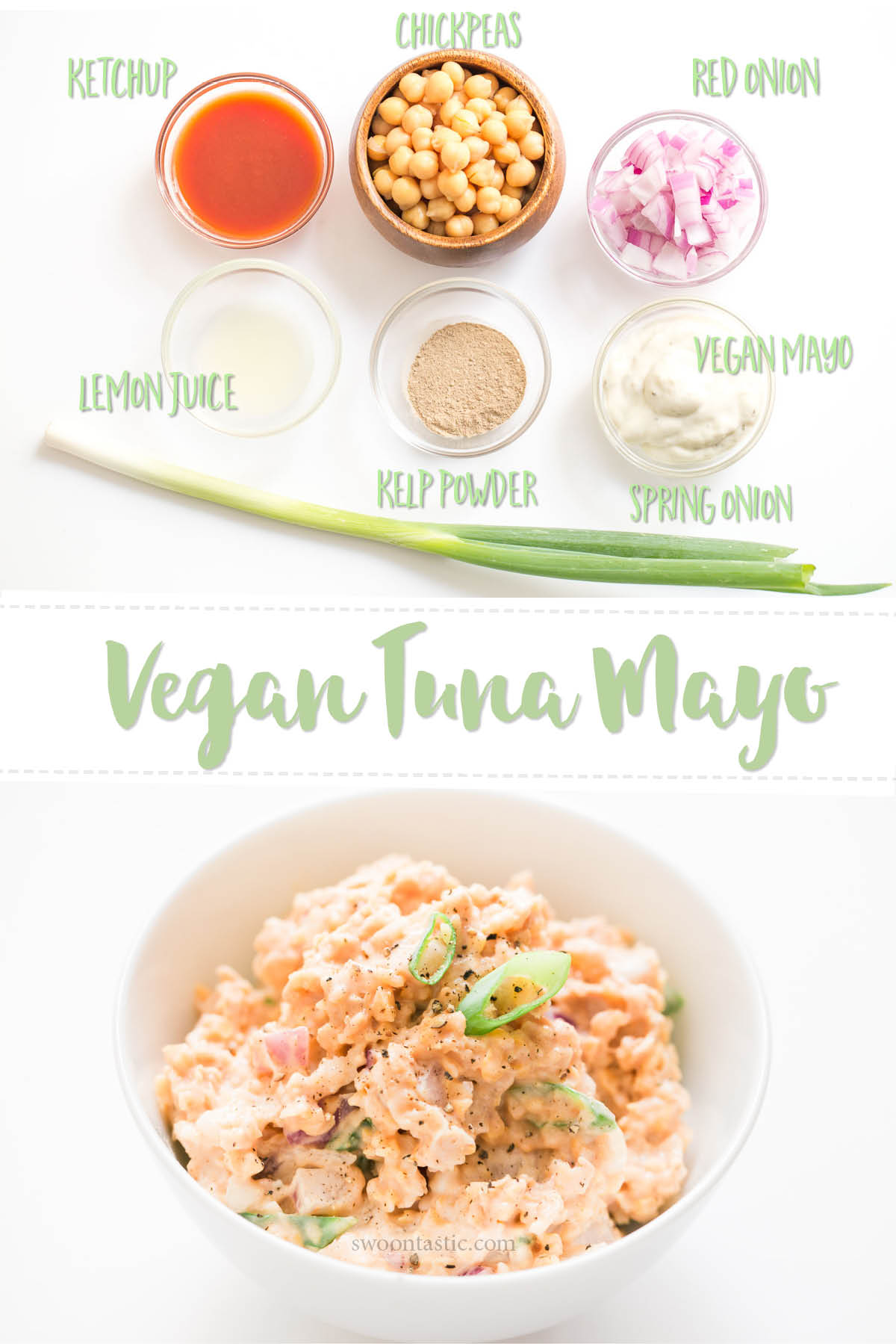 We'll start with a can of chickpeas in brine, which gives the chickpeas that familiar tuna-in-brine taste. Drain the chickpeas and add them to your multi-chopper or food processor for a few swirls. You want the mixture to still be slightly chunky, so process for one or two seconds at a time max then check the consistency so that it doesn't become a paste or pulp. If you still see a few small chunks of chickpea in the mix, that's fine!
Pop the chickpeas into a nice bowl large enough to hold all the final ingredients mixed together, cos we're mixing it all up right in here. Chop up a red onion (oh multi-chopper, you beauty) and add it to the bowl. Red onions are great for raw dishes as they're a little bit sweet. You can also use a white or yellow onion if that's all you have, but just be sure to chop it into really fine pieces so you don't end up with a mouthful of large, chunky onions ?. Here I also added a sliced up spring onion because we had some growing in our little herb pot. It's not technically essential to the recipe, so skip if you like.
Next up are the sauces and condiments – a tablespoon or two of lemon juice. (It's okay if you want to save time and use lemon juice from a bottle. Fresh is always better, but sometimes we're just in a hurry. I won't judge.) Add your preferred brand of vegan mayo or salad cream – about a table spoon (or five!?) , depending on your tastes.
Now for the first of the two key ingredients, the kelp powder. A tablespoon of this is going to give your chickpeas that taste of the ocean you associate with canned tuna. You can always skip this part, and just enjoy yourself some chicken mayo instead! Kelp powder is easily found at your local health food store, or online.
Finally, add a tablespoon or two of ketchup into this mix. This is way I grew up eating tuna mayo, and it also gives your meal an authentic pinkish color, too.
Grind in some freshly cracked black pepper, a bit of salt, grab your spoon and mix everything up really well. When everything is thoroughly combined, get your tasting spoon out and give it a sample. Adjust to your taste – maybe you'd like to add a bit more mayo, lemon juice or pepper, and season to your likings. A few more stirs and you're ready to pop this delish, tuna free mayo mix into whatever vessel of consumption you prefer.
When you're done you're probably going to want to make this at least once a week in nice large batches to keep in the fridge for quick sandwiches and on the go bites. It's also great to have there as something that your partner can easily dig into when they're craving something fuss free but delicious to snack on.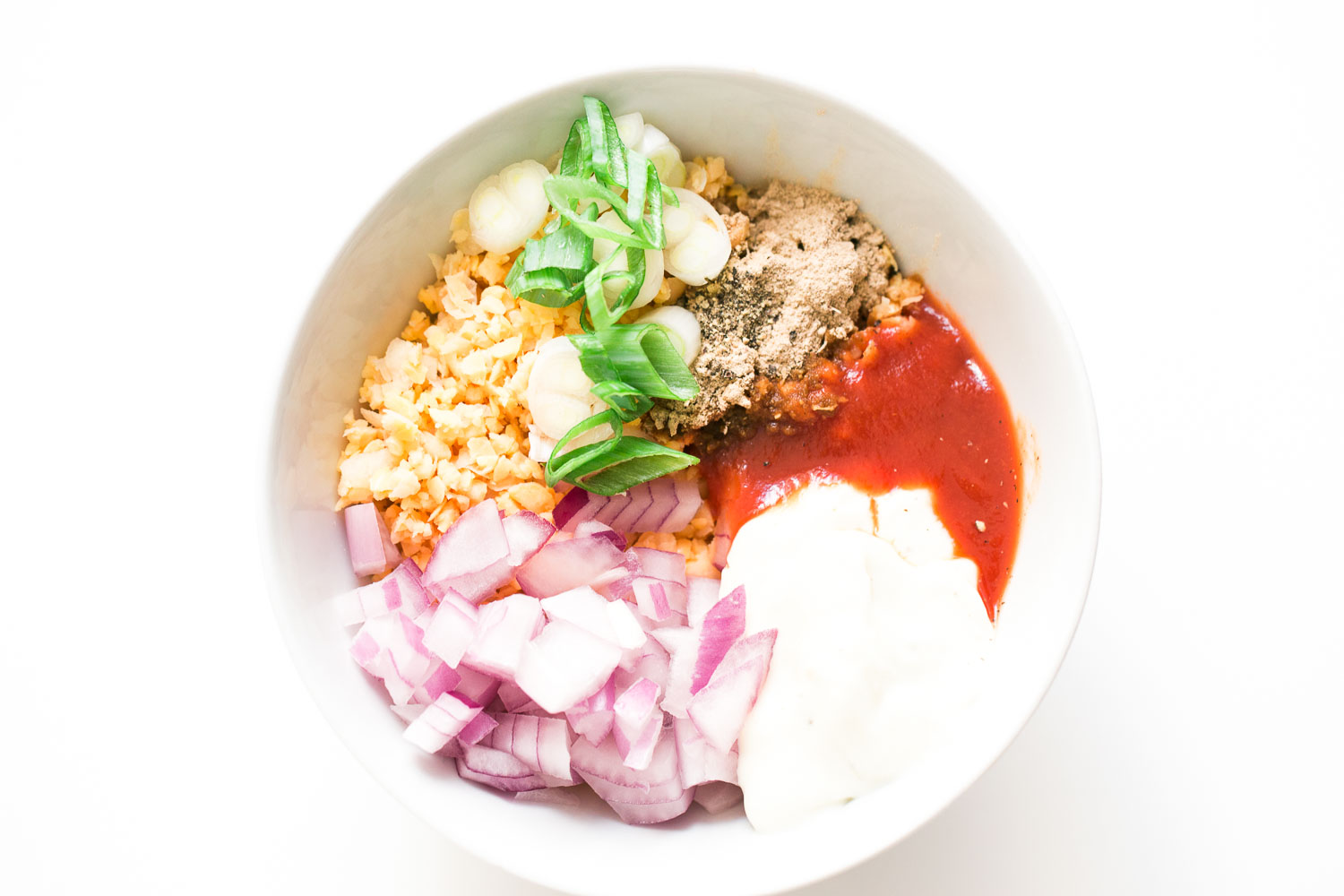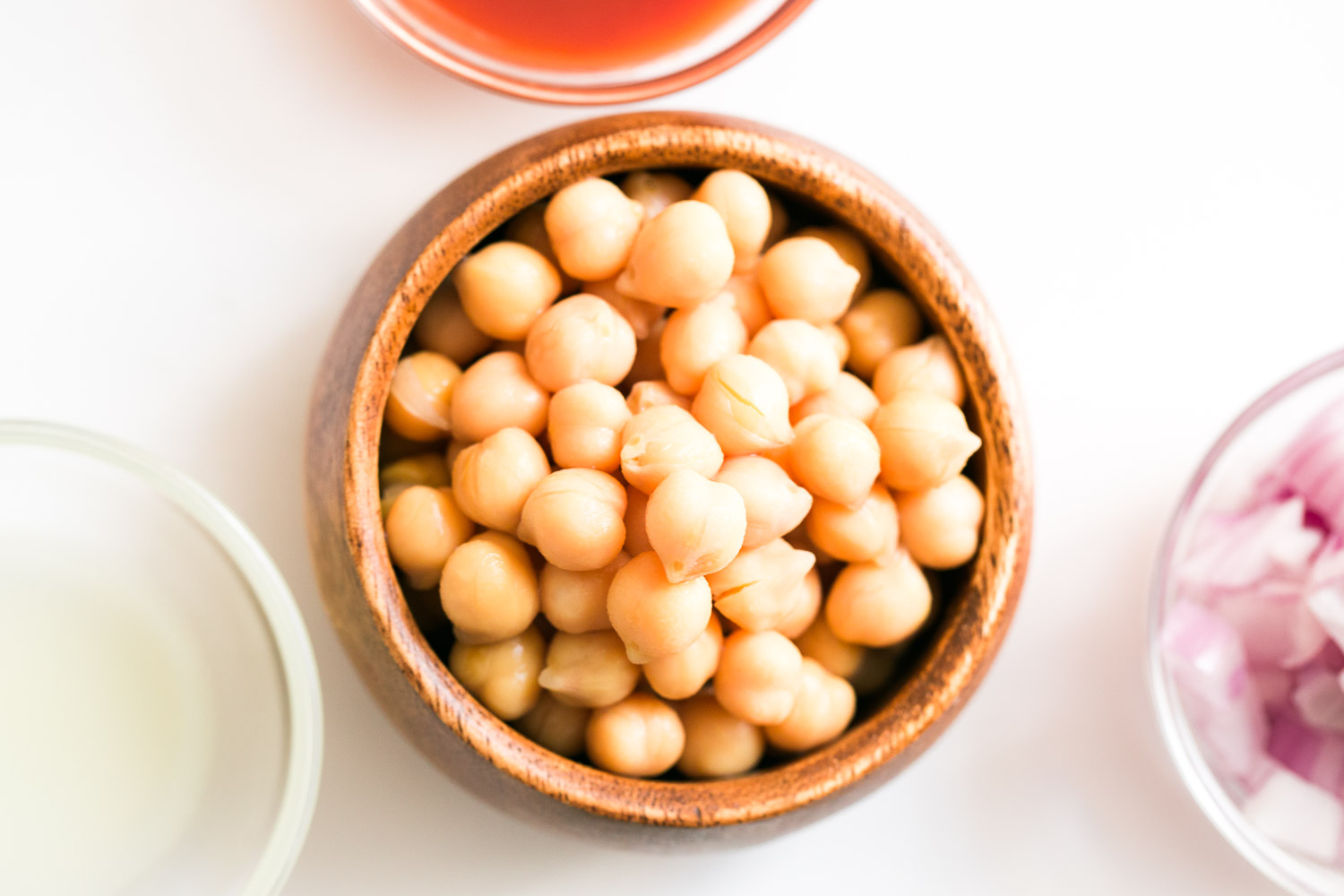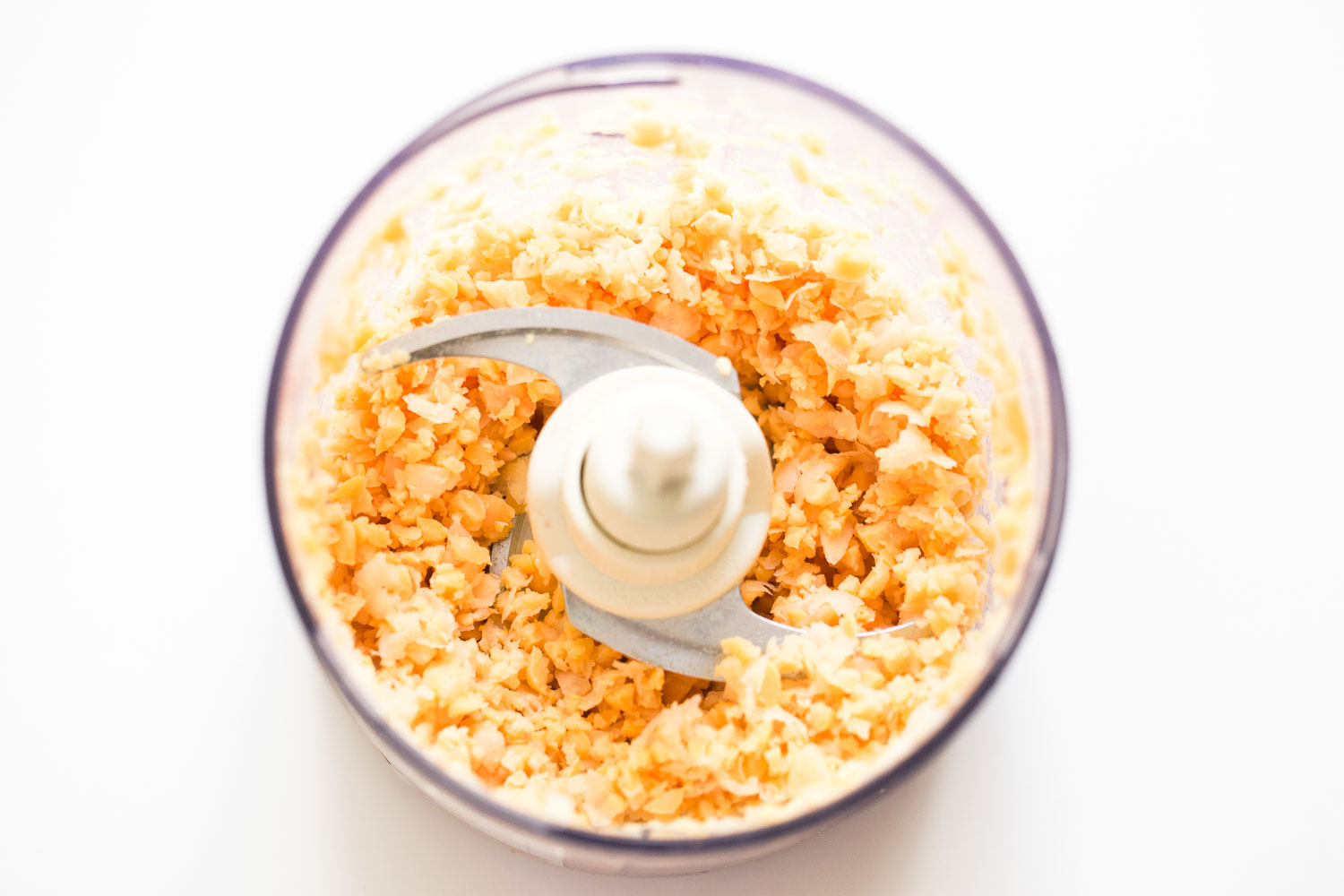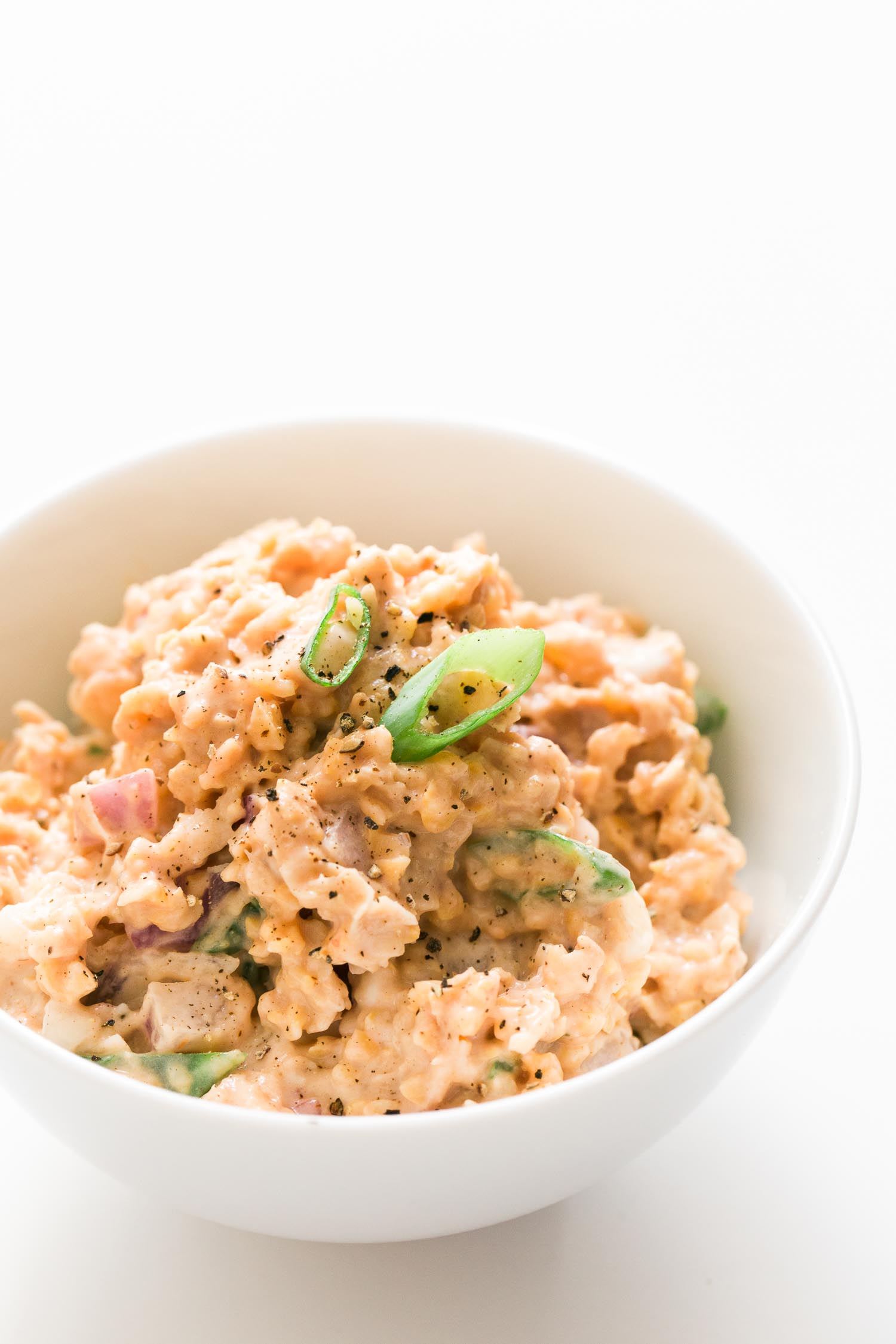 5 Minute Vegan Tuna Mayo Recipe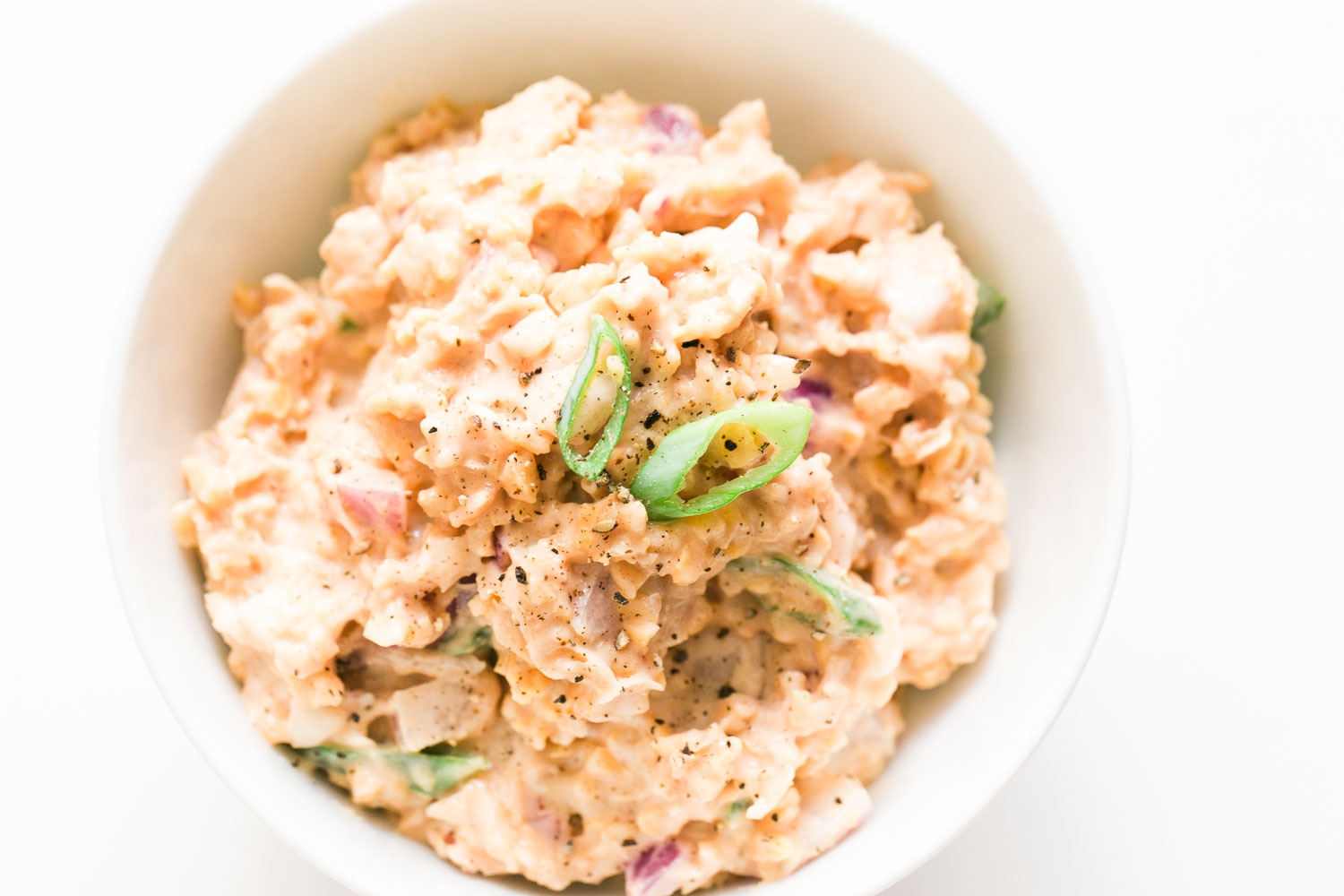 Here's how to make this seriously tasty Vegan 'Tuna Mayo' from chickpeas in brine with a dash of lemon juice and kelp powder. Ready in 5 minutes and yummy delicious!
Ingredients
1 Can chickpeas in brine
1 Onion (Red onion is best, can use white)
1 Spring Onion (Optional)
2- 3 Tablespoons of vegan mayo
1 Tablespoon lemon juice
1 Tablespoon kelp powder
1 Tablespoon of ketchup
Salt and black pepper
Instructions
Drain the chickpeas and add them to your multi-chopper or food processor for a second or two at a time. You want the mixture to still be slightly chunky.
Add to a mixing bowl.
Chop up the onion and slice the optional spring onion.
Add to mixing bowl with lemon juice, vegan mayo, kelp powder and ketchup.
Season with salt and black pepper.
Mix well and taste, adjusting mayo, lemon juice, ketchup and kelp according to your personal tastes.
Loved this recipe? Check out our
vegan ground beef recipe
, it's another meatless winner that can be enjoyed so many ways!