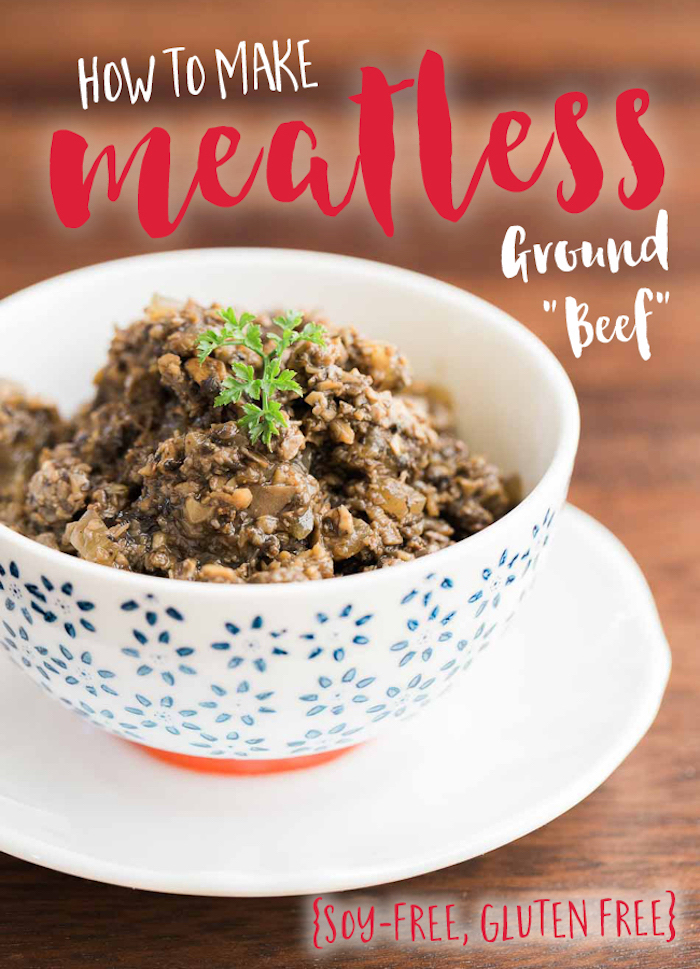 Seriously, I promise you that's not a bowl of beef staring at you, calling out eat me, eat me now! This meatless, very vegan ground 'beef' recipe is a savory masterpiece packed with an umami punch. By using a combination of fresh brown cremini (or Portabellini) mushrooms for texture, and an optional sprinkling of dried mushrooms to boost your savory umami fix, it's got that traditional ground beef experience that'll hit you right in the tastebuds.
The basic recipe is extremely versatile. Adjust it by adding a few extra fresh herbs or spices and you can transform this humbly delicious staple into a spicy variation for your fave cuisine.
Add chilis and bell peppers for Mexican-style fare
Fry up some coriander seeds and cloves for a traditional South African 'boerewors' flavor or
Season with oregano, basil and flat parsley for a taste of Italy
Another option is to create one bulk batch of the basic recipe to keep in the fridge, and simply adjust the seasoning as needed to create a variety of swoontastic meals in the days that follow. Think:
Super delicious, spicy vegan beef tacos 
The foundation for a hearty shepherds pie
Lovely layers of saucy lasagne
Savory spaghetti bolognese
Toppings for a spicy pizza
Heaped onto steaming baked potatoes
Mouth watering vegan meatless meatballs
Stuffed into bell peppers oozing with a creamy vegan cheese sauce under the grill
This meaty but meatless vegan ground beef even works wonders as a quick snack on toast for lunch or breakfast.
While a few ingredients here are optional but strongly recommended, there are a few you cannot do with out.  To create a bare bones version of this deliciously meatless vegan ground beef you absolutely need to use brown cremini or Portabellini (baby portabello) mushrooms, Rosemary, onion and the freshest flat Italian parsley you can get your hands on. The vegan Worcestershire sauce adds an additional rich dose of flavor, and also adds to the dark brown color associated with beef.
We love chili, so we added a teaspoon of fresh red chili peppers along with the parsley and rosemary for an added bit of a bite – try it out if you're into a bit of spice
How to Make Vegan Ground Beef (Soy Free)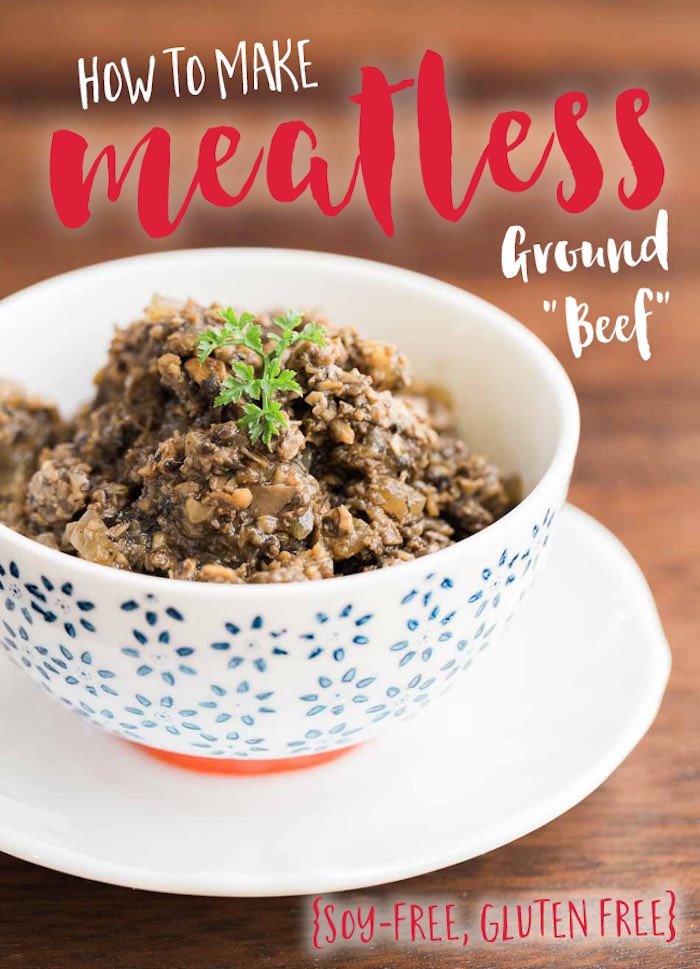 This delicious, umami-packed ground beef replacement is soy and gluten free. It can be made in minutes and used with anything from pasta to pie to pizza!
Ingredients
Produce
27 ounces (750 grams) fresh brown mushrooms such as cremini or baby portabello
1 yellow onion, finely chopped
Fresh Herbs
1 tablespoon minced garlic
1 tablespoon freshly chopped rosemary
2 tablespoons fresh chopped flat parsley
Dried Herbs and Spices
½ teaspoon ground cumin
1 teaspoon onion powder
½ teaspoon garlic powder
Dry Goods
1 tablespoon corn flour
1 cup chopped and reconstituted dried porcini or shiitake mushrooms (Optional)
Oils, Liquids and Vinegars
1 tablespoon of vegan Worcestershire sauce such as Maggi Lazenby (Optional)
1 tablespoon good quality olive oil
⅓ Cup water
Instructions
If using dried mushrooms, pre soak in warm water as per instructions on package. Keep liquid for use later.
Place the fresh mushrooms into food processor or multi chopper until mushrooms pieces are "minced"
Finely chop onion. Using the multi chopper saves loads of time.
Heat olive oil and sauté onions in a large skillet till translucent
Add minced garlic, reduce heat and watch that garlic does burn
Add parsley and rosemary, saute for another minute
Add all mushrooms to the skillet, coating with seasoned oil and brown
Season with salt and black pepper
Stir in onion powder, garlic powder, cumin
Allow mushrooms to cook until fresh mushrooms start to release their liquid. (about 10 minutes)
Add corn flour into ⅓ cup of water, vegetable stock or soaking liquid from dried mushrooms and stir into mixture with optional vegan Worcestershire sauce
Cook until liquid has reduced (another 5 - 10 minutes or so)
Taste for salt and pepper and serve