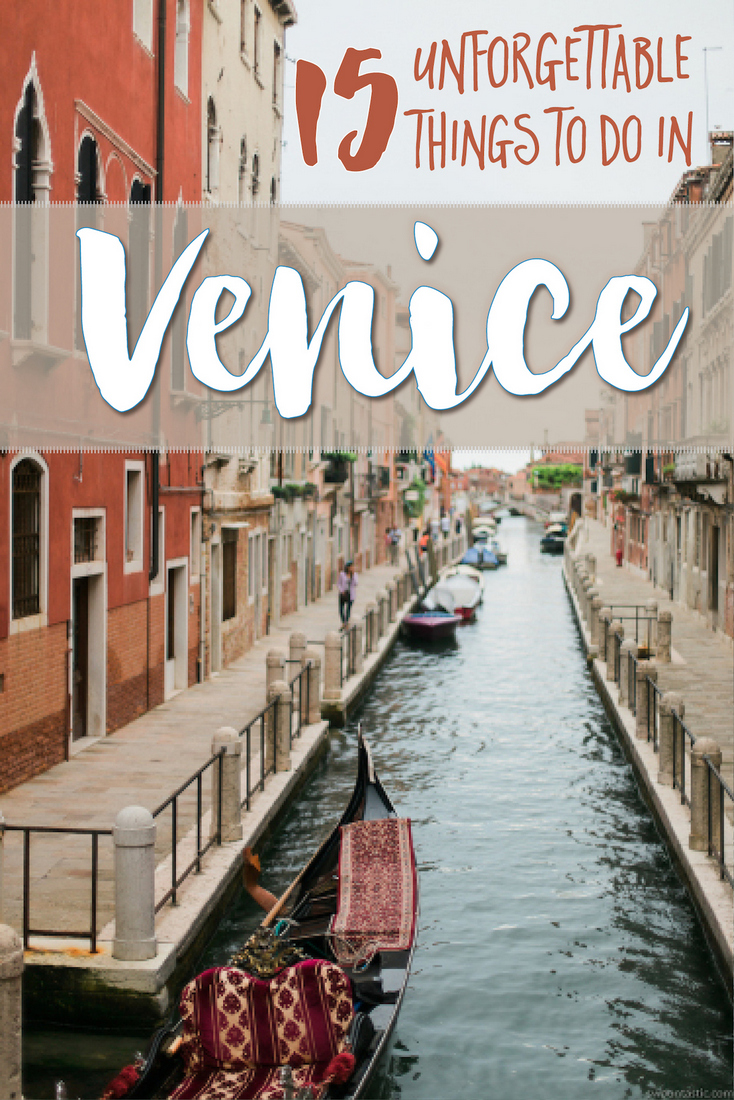 Things to do in Venice, Italy
Looking for things to do in Venice, Italy, as you plan your epic trip to Europe? Venice is a magical, romantic, water-filled wonderland unlike any other place in the world. The narrow streets and countless canals created in the 9th century are filled with travellers and locals exploring Venice by foot, water taxi, gondola, vaporetto and speedboat.
The city is gorgeous and bustling during the day, yet somehow even more spectacular and romantic in the evening. Step into a world that seems frozen in time as you walk amongst buildings that are centuries old. Cross waterways and rios built during a time where Venice was one of the powerhouses of the world. Traverse the island by cruising the Grand Canal, hopping off at any stop to enjoy its many historical sites.
Spend hours dining, Italian-style, at a local trattoria, devouring bowls of pasta with fresh pomodoro sauce, handmade pizza ai funghi, a fresh insalata mista or a porcini risotto. Stroll down the many winding streets and alleys, getting lost under the stars, hand in hand with your loved one. Seek out freshly made gelato at one of the countless gelaterias.  Enjoy a traditional grab and go style traditional Italian breakfast of espresso and a cornetto. Many of Venice's most beautiful sites and experiences can be enjoyed on a dime, which makes it easier to consider a splurge on a few luxuries, should you wish. Hop on a romantic, serenaded boat ride for two, as Gondoliers continuing the centuries-old art of transporting Venetians down the canal.
The old-world charm of the ancient city is impossible to ignore; a mix of gothic, baroque, Byzantine and renaissance architecture making up the uniquely Venetian architectural landscape. All this, so intimately intertwined, is the charming amalgamation of passing centuries of Venetian culture and history.
Things to Do in Venice Italy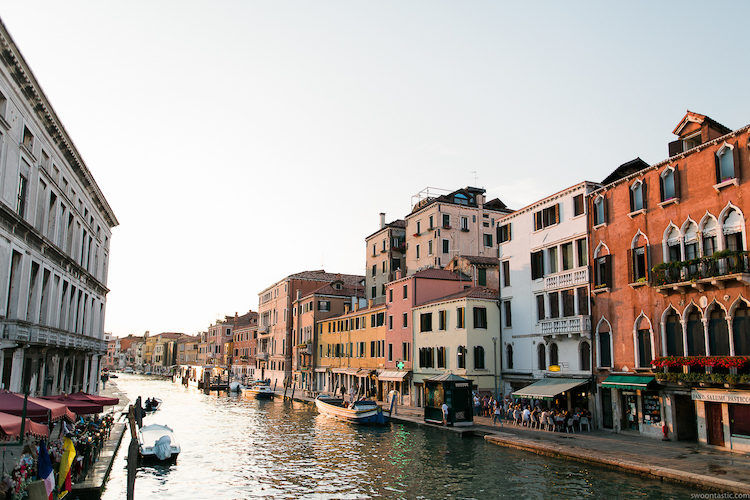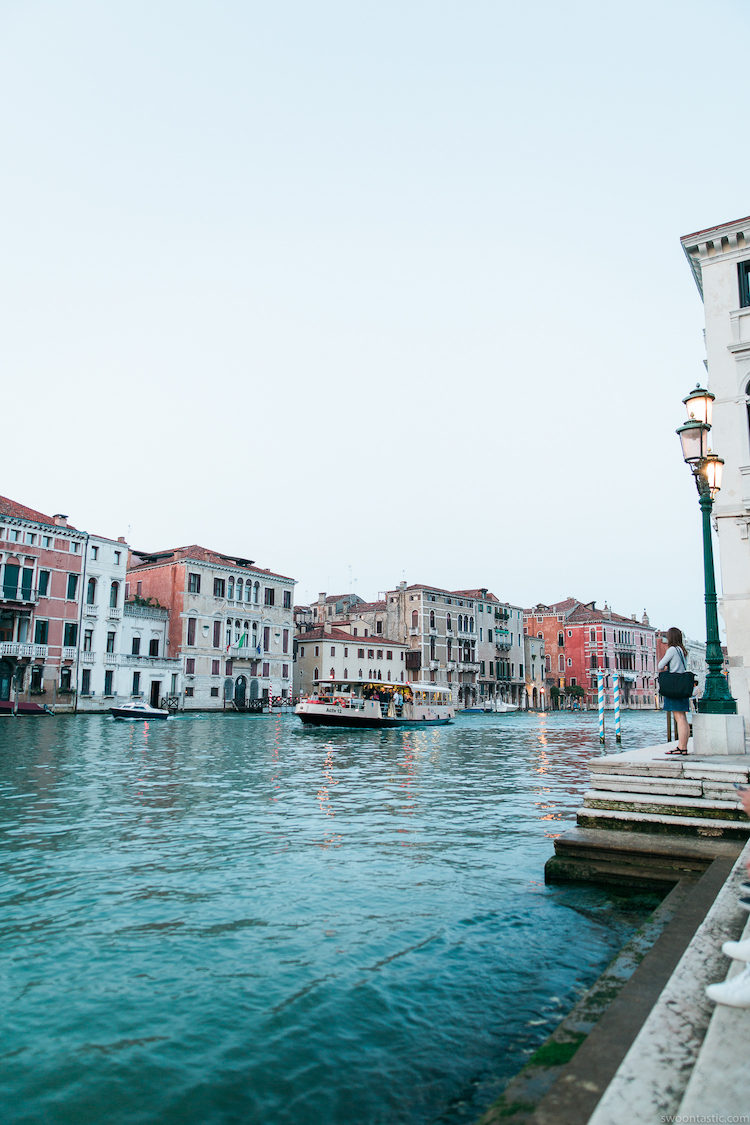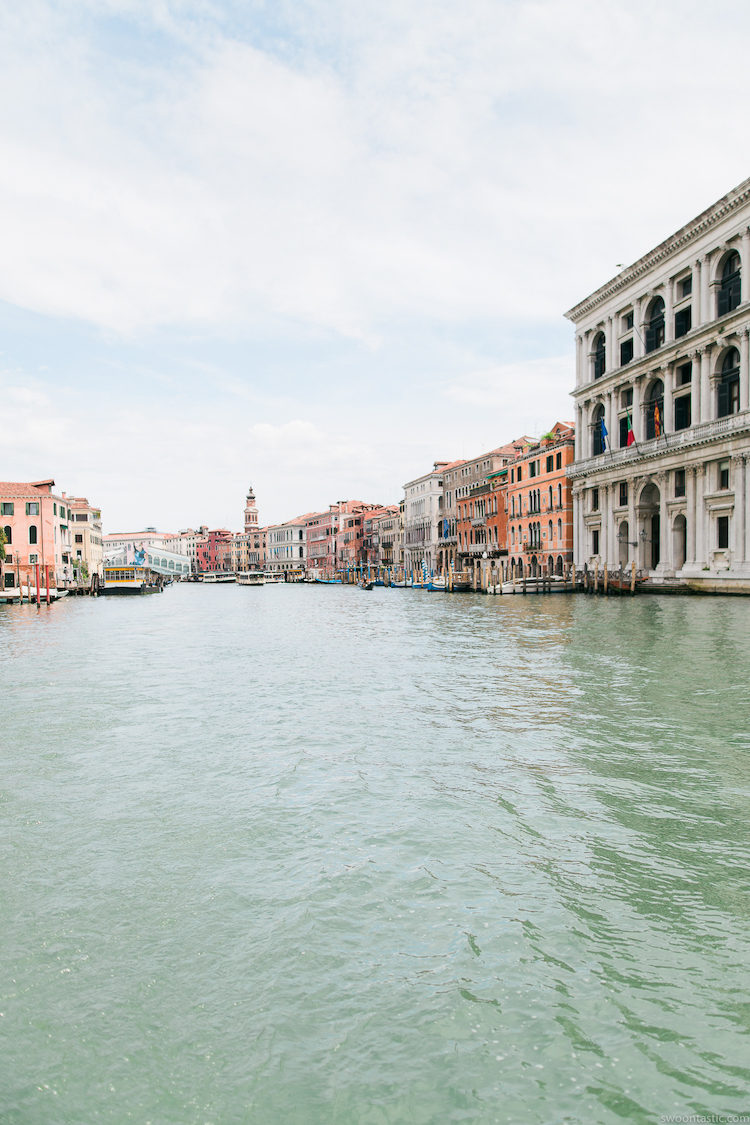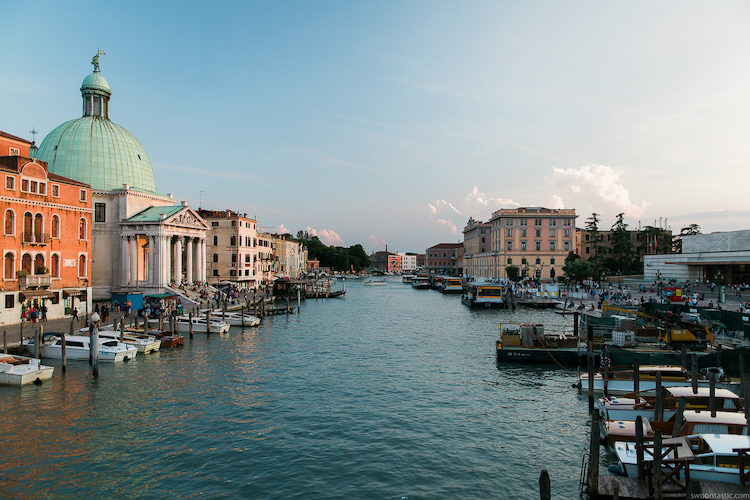 1. Grand Canal Cruise. It's the highway of Venice, the island's version of a main road, and the best way to traverses through the heart of Venice on water. A fun, and affordable way to get your bearings upon arriving in Venice is to hop onto one of the water taxis called Vaporettos, and cruise down the canal on Italian public transport!
Cost:  €7 -€80. You can grab a single ride Vaporetto pass for €7 or get a time-limited 72 hour Vaporetto pass with unlimited rides at most bar tabacchis for around €40. (Current prices here). A round trip is around 40 minutes, excluding time spent exploring at your chosen stops. A gondola ride starts at €80. (Read on for tips on how to book a great gondolier!)
Bonus: Try to get a seat at the back (or front, depending on design) of the Vaporetto, for the best views and photo opportunities!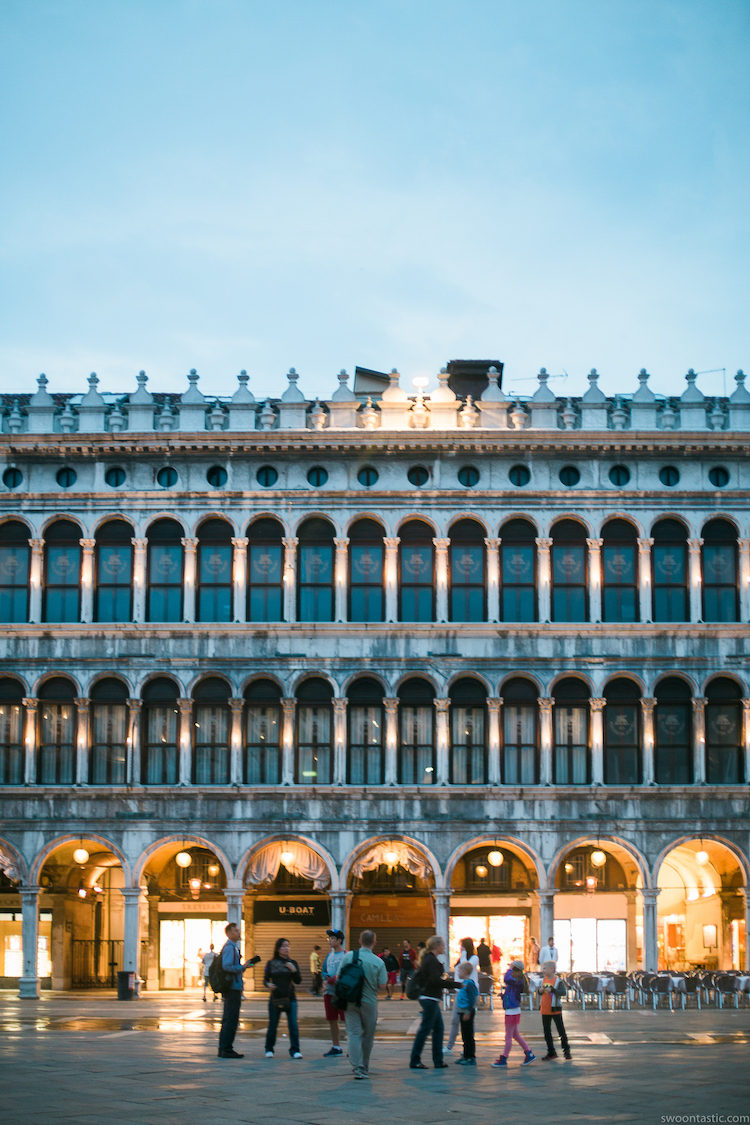 2. Visit St Marks Square. Also known as Piazza San Marco, this beautiful square is located right in front of St Marks Basilica. A stop at this iconic square is almost certain to be on any travellers list of things to do in Venice Italy.
A visit to this famous landmark is best done in the morning before 10am before your visit to the basilica, when it's still relatively tourist free, or at night to see the square come to life with orchestras and Venetian magic!
Snap a few photographs, imagine the square as it was centuries ago filled with ancient Venetians, and marvel at the beauty of just being there.
Cost: Free. 
Tip: If you're visiting during the rainy seasons be sure to bring your waterproof boots and umbrella – St Mark's Square is prone to flooding!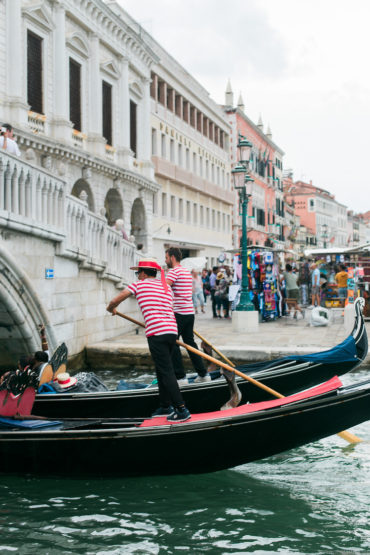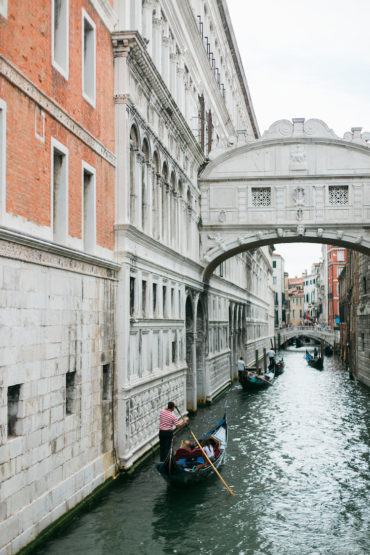 3.  Visit the iconic Bridge of Sighs. While the notion of a private gondolier trip for two traveling under the Bridge of Sighs might sound hopelessly romantic, the bridge's name has far less heart-warming origins. The bridge was, in fact, the route along which criminals were taken to begin completion of their prison sentence, connecting the interrogation room at Doges palace with the prison. Thus it is was believed that during their final moments in the outside world, convicts would take in their last breath of freedom, letting out a sigh as they resigned themselves to their fate of confinement.
Despite its somewhat sobering history, the location is truly beautiful. It boasts spectacular views of the canal on one side, as well as an iconic view of gondoliers in red and white striped shorts transporting travellers and couples down the Rio di Palazzo. Absolutely one of the more popular things to do in Venice Italy.
Cost: Free to visit and view
Tip: Legend has it that locking lips on a gondola under the Bridge of Sighs as the sunsets will guarantee the lovers, eternal love. 😉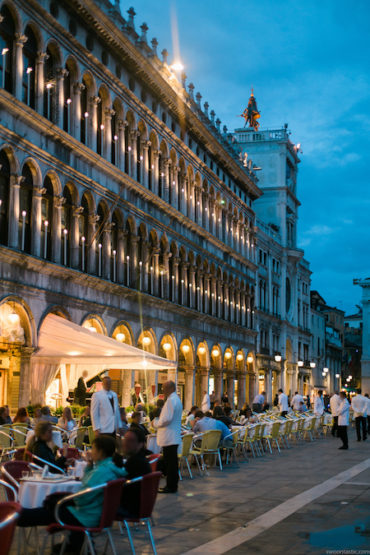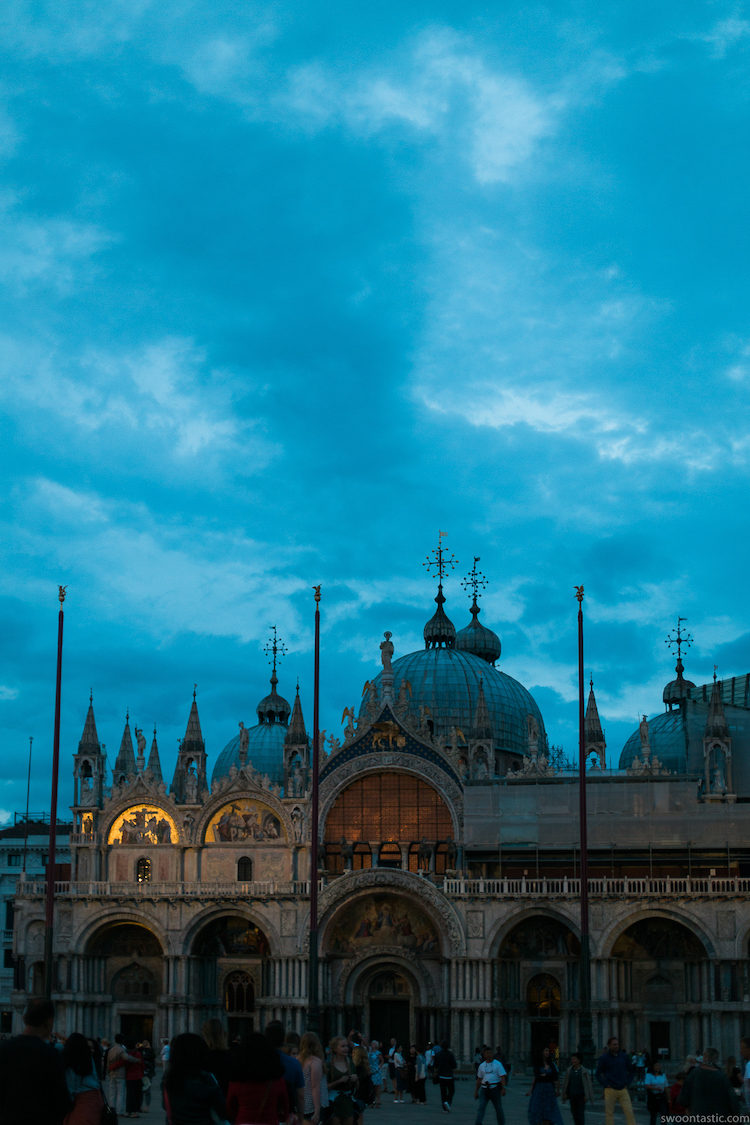 4. Enjoying the Night Dueling Orchestras in St Mark's Square is one of the most unforgettable experiences Venice has to offer. Your list of things to do in Venice Italy will not be complete without it! During the evenings the square is lit up, coming to life as the orchestras of competing restaurants seem to challenge each other to musical duals.
You can stroll around the square, hand in hand, with the love of your life, soaking up the sounds for free. You might wish to have a seat at a table and enjoy what might be considered some of the world's most expensive coffee. An espresso will set you back around EU10 each, and there is almost certain to be a per person cover charge of around EU6 added to your bill. Be sure you know what to expect in terms of costs!
Cost: Free
Tip: There are many lovely Venetian trattorias and cafes in the vicinity which are open for dinner should you find the tourist-oriented prices of the establishments on the square prohibitive. Just stroll on down one of the many romantic alleys to find a spot open for cena.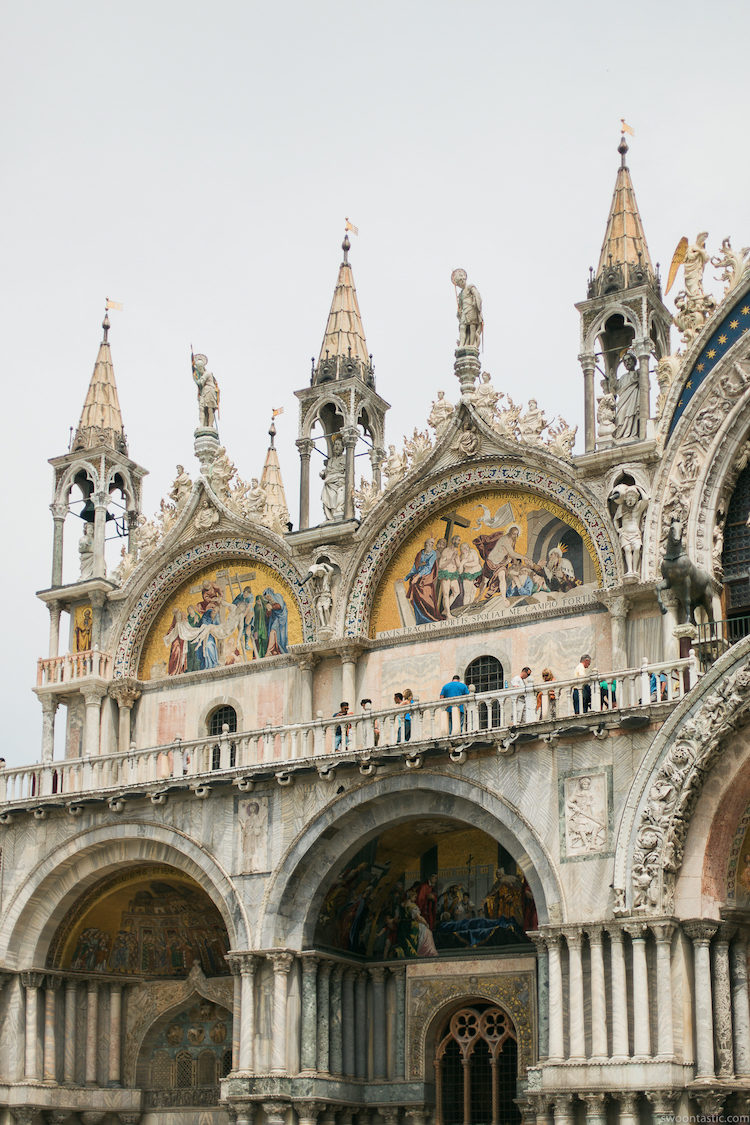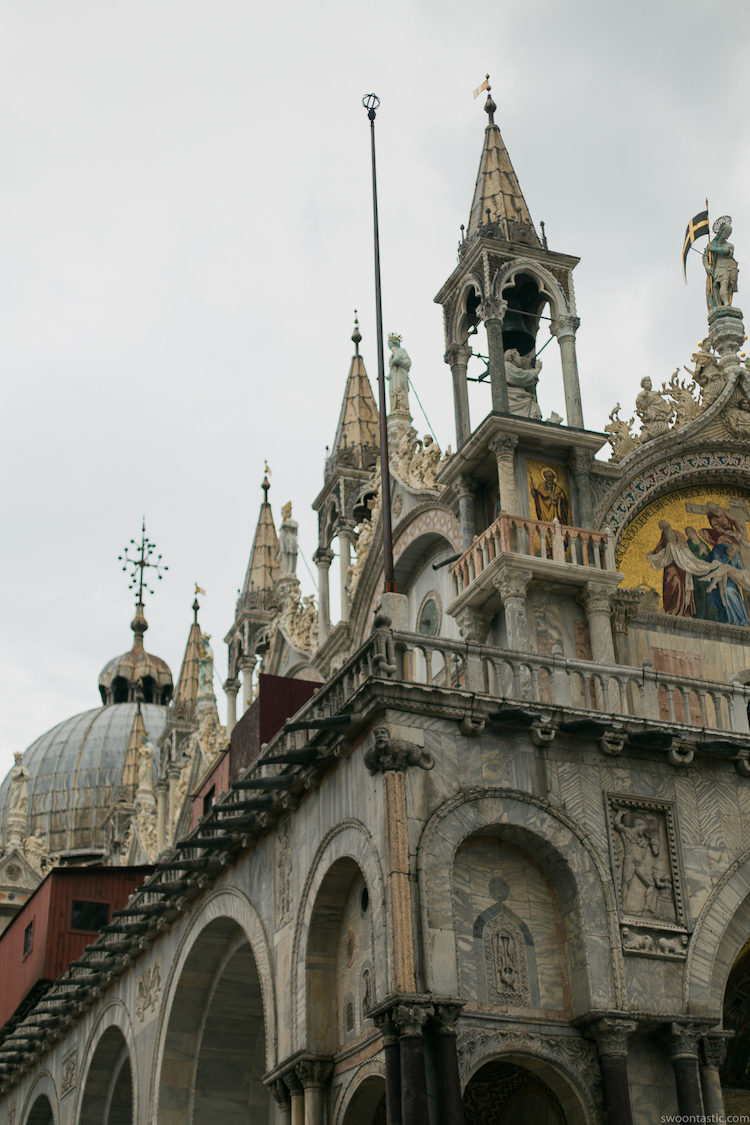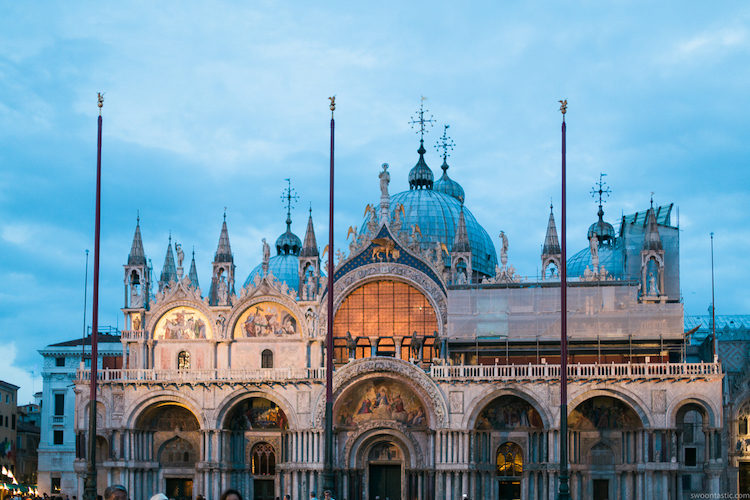 5. Saint Marks Basilica. Basilica di San Marco, is Venice's only cathedral, located in St Mark's square next to Doges palace. This spectacular palace is a view to behold! The Eastern style architecture, Byzantine stone sculptures and mosaic scenes create an impressive external building that is a visual treat all on its own. Inside, amongst lavish marble and gold mosaics that have earned it the nickname 'The Church of Gold', is St Mark's final resting place. His bones have laid here since 830 AD.
Cost: Basilica Entry: free. San Marco Museum: EU 5. Golden Altarpiece EU 2. Treasury EU 3.
Tip: Skip the queues by prebook your tickets online here for EU 2 and save yourself a few hours! Avoid the crowds by visiting outside of peak hours before midday.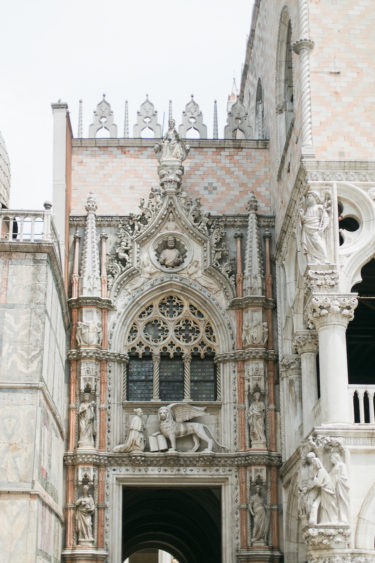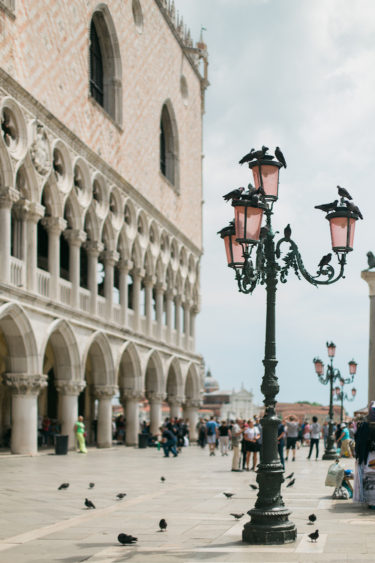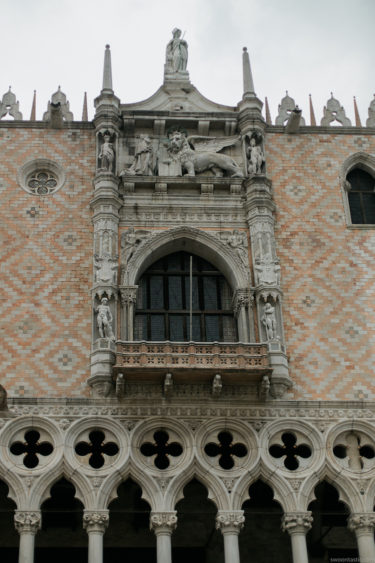 6. Doge's palace  Palazzo Ducale, located adjacent to St Mark's Basilica, was created as a symbol of power and status, the home of the ruling dukes at the time. The decadent white and salmon pink building, offering Dukes of yesteryear glorious views over the Grand Canal, is a beautiful example of  Venetian Gothic architecture.
Cost: EU 19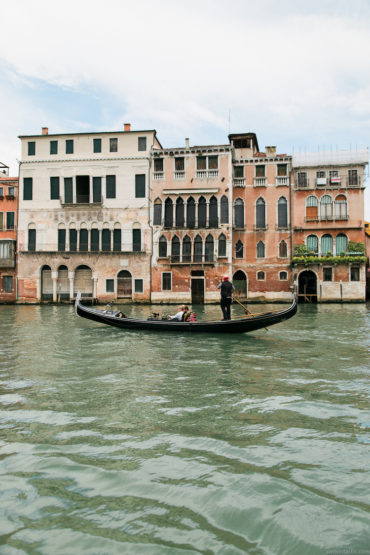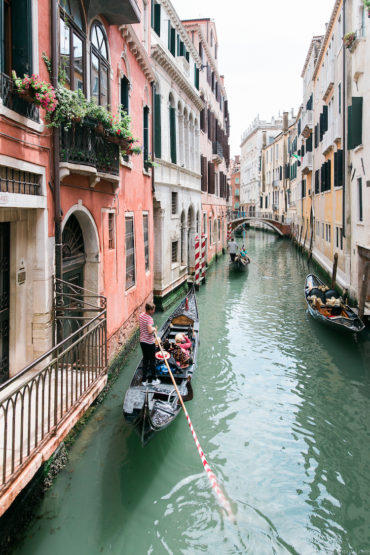 7. Gondola ride. Travelling through the canals and rios of Venice, steered by an Italian Gondolier, is a bucket list worthy event. In fact, it could easily be a the top of your list of things to do in Venice Italy! A daytime trip is usually in the region of 40 minutes, costing EU 80. The trip, and cost, can be shared with up to six people for an affordable experience. To up the romance, consider an evening gondolier trip for two, which costs around EU 100. For a serenaded experience with an accordionist, add EU 120 to that.
Cost: You can view the current rates on the official Gondolier Venezia website here.
Tip: The most important thing to consider when taking your trip is your rapport with the gondolier. The trip is a very intimate experience, and embarking on a ride with an unprofessional gondolier that you do not gel with will almost certainly ensure an unhappy trip. If need be, chat to a few gondoliers at a proper gondolier station before confirming your trip, and select the one with whom you get the most awesome vibe!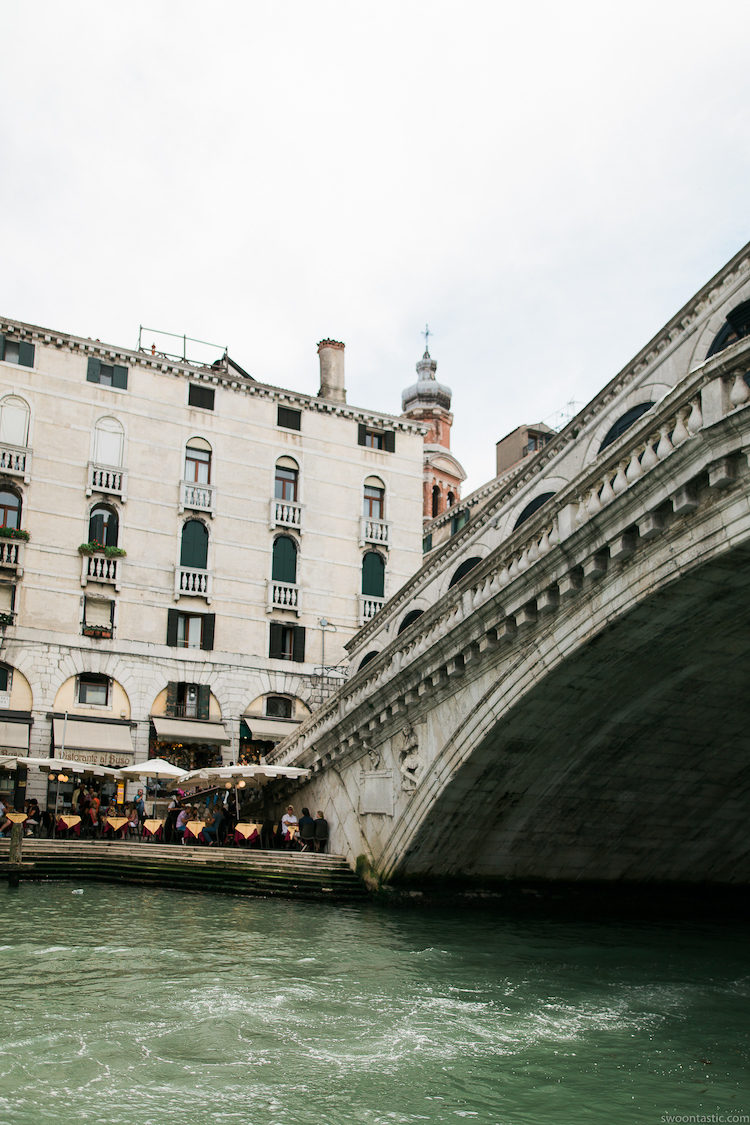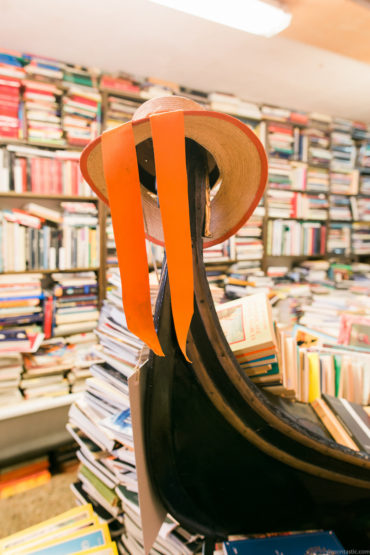 8. Rialto bridge. The Rialto bridge gained its fame as being the only bridge crossing Venice's grand canal up until the 1850s. Now it is densely-packed, filled with tourists and souvenir shops. While undergoing periodic restoration it is covered in scaffolding, and can be rather hectically crowded – not necessarily a destination all on it's own. Regardless, it is certainly worth strolling across as part of your route because of its iconic views, or travelling underneath during a trip down the Grand Canal.
Cost: Free.
9. The 'Floating Bookstore'. The Libreria Acqua Alta (translated as the 'high water bookstore') is a one-of-a-kind second-hand Italian bookstore tucked away in one of the many side streets of Venice. To survive the frequent Venetian floods, books are ingeniously stored in old bathtubs, piled up in Gondoliers and stacked on bricks or shelves to protect the precious contents from water.  The bookstore is a treasure trove of old Italian books and second-hand magazines, and a wonderful place for book lovers to enjoy. Cost: Free.
Tip: Head out to the back of the store, where outside there is a staircase made entirely out of books, too!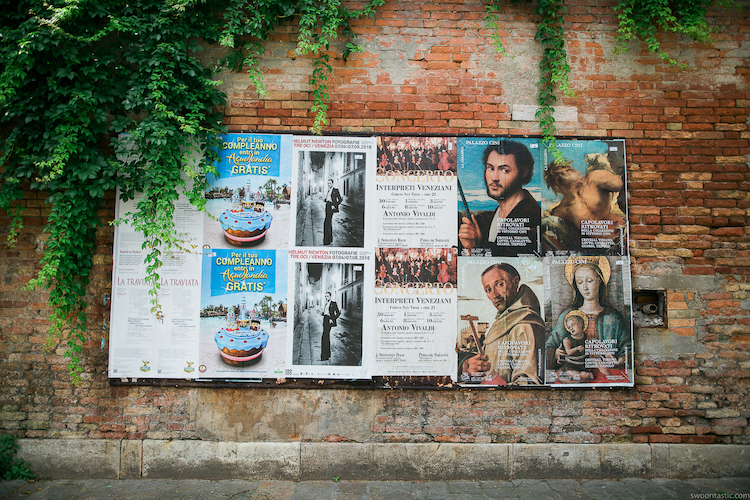 10. Enjoy Venetian theatre or music. There are many opportunities to enjoy the great Italian opera or a performance of baroque music in Venice. If you're serious about European music and culture, then an Italian string recital or night at the opera is one of the things to do in Venice Italy that you'll not want to miss! You might opt to listen to works from Vivaldi & Tartini at the Chiesa di San Vidal, a church restored in the late 17th Century. The church also displays Italian Renaissance and Rococo works of Vittore Carpaccio and Giovanni Battista Piazzetta respectively. Or perhaps you might decide to enjoy a night of opera at the Teatro La Fenice for a performance of La Traviata, Madama Butterfly or Carmen.
Cost: From $35 for a recital at Chiesa do San Vidal to $100 –  $228+ for an opera at the Teatro La Fenice
Tip: Be sure to book well ahead to secure the best seats for your chosen performance. For the uninitiated, also note that typically a full Italian opera performance is several hours long, with a number of intermissions between.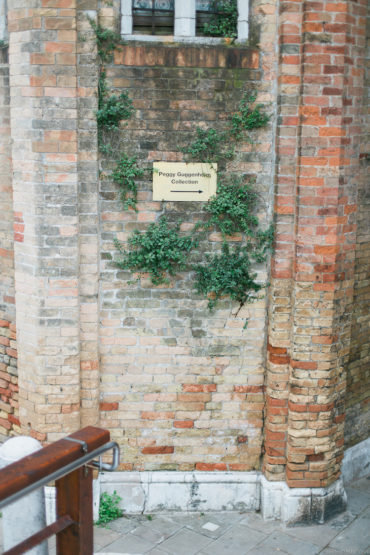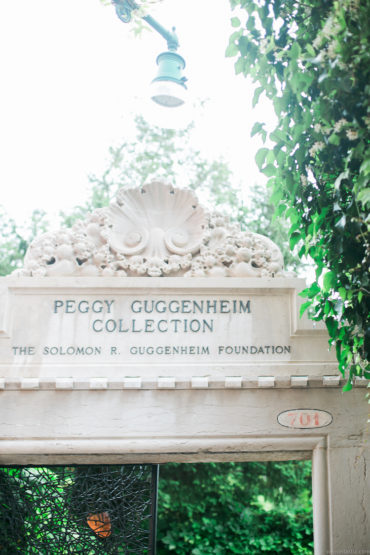 11. Peggy Guggenheim art collection. A must-see for modern art lovers! The Peggy Guggenheim museum is filled with an amazing curation of modern pieces from Picasso, Salvador Dali, Max Ernst, Kandinsky and more. The pieces are displayed in Peggy's home, overlooking the Grand Canal.
Tip: Look out for the silver headboard commissioned by Alexander Calder, which is exhibited in what was her bedroom during her living years.
Cost: €15
12. Wander around the streets of Cannaregio. This off-the-beaten-path region of Venice is a charming district away from the crowds, where you can enjoy a meal and some shopping that is not 100% targeted at tourists.
Tip: Located near to the Santa Lucia railway station, visit by getting off at the Ferrovia stop if you're taking a vaporetto.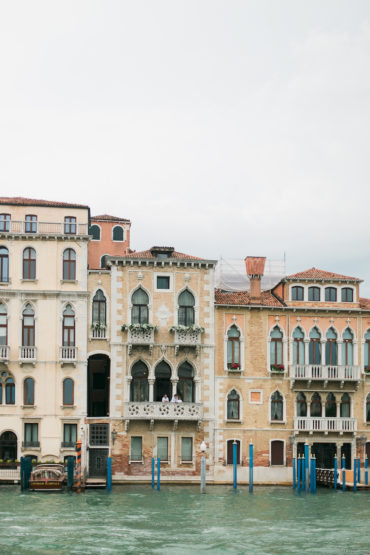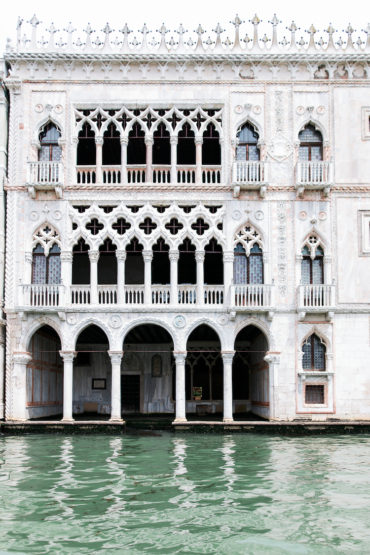 13. (Above Right) Ca' d'Oro, known as the Golden House, is a palace that now serves as an art museum, built in 1430. The striking, Venetian Gothic exterior, located in the Cannaregio district, can be seen and enjoyed from the Grand Canal via vaporetto. Conversely, the balconies provide stunning views of the canal, with a few works from the Renaissance housed inside.
Cost: EU 6 entrance fee.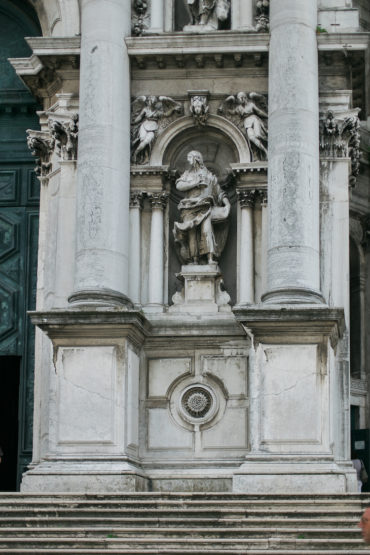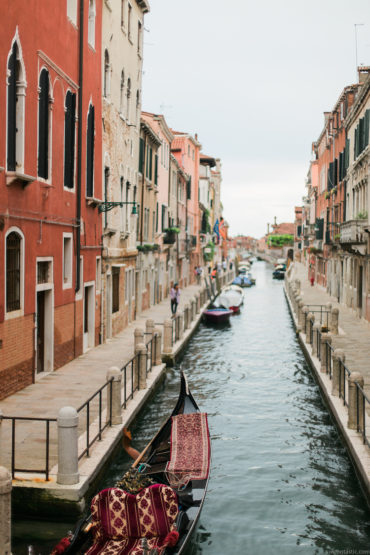 14 Basilica di Santa Maria della Salute. This handsome but humble Roman Catholic church was built over a fifty year period to celebrate the end of the plague.  Located right on the Grand Canal, it is a relatively quiet, beautiful spot to contemplate the city, especially during a relaxed sunset.
Entrance: Free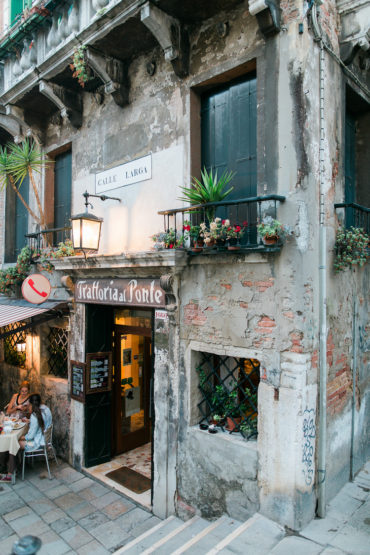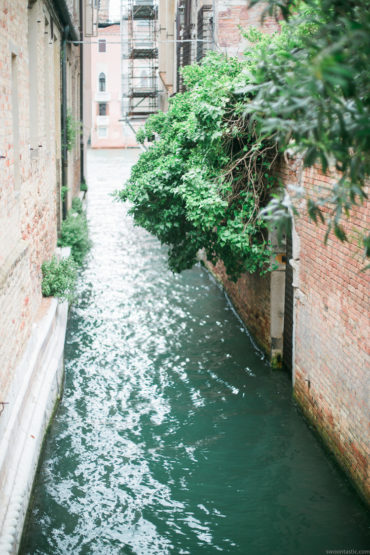 15. Indulge in gelato, have an Italian breakfast of cornetto and cappuccino and dine at a rustic, family-owned trattoria. Above all else, leave your troubles behind and get lost in the magical island that is like no other place on earth, creating your own list of things to do in Venice Italy!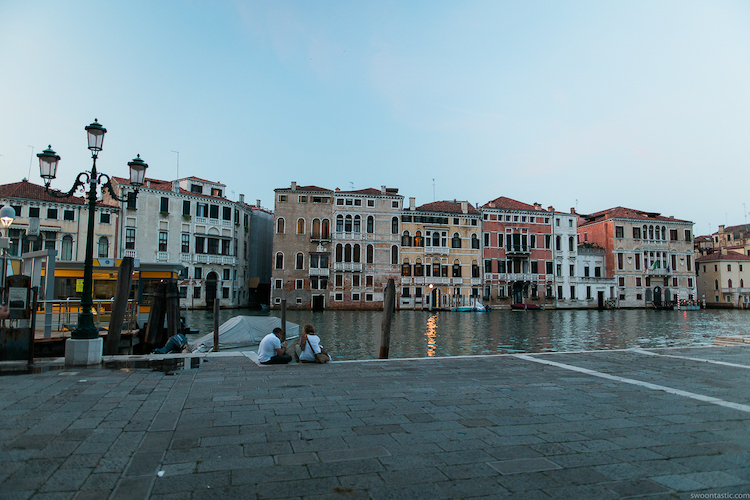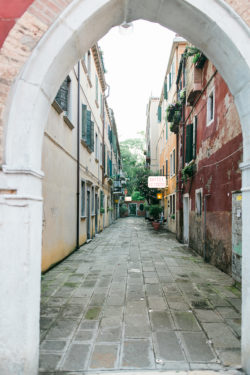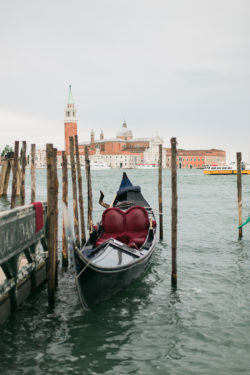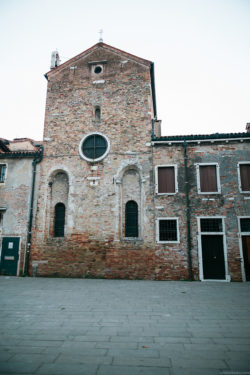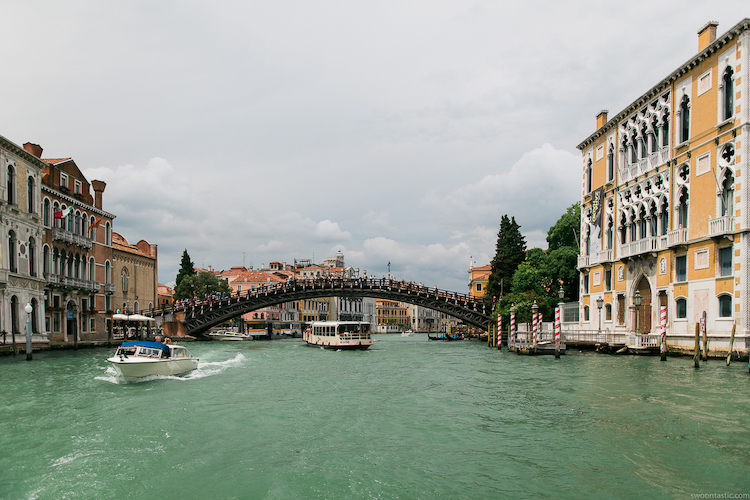 Looking for more travel ideas + tips?