This incredibly easy-to-make, blender-full of green goodness is a game-changing breakfast smoothie. It's protein-packed, super-delish, filled with green energy and takes just over 10 minutes to make. And, it's damn delicious. Yup, it's pretty much the ultimate green protein avocado breakfast smoothie recipe in my books!
This green genius is filled with all the things you need to keep your health, protein, energy, calcium and potassium levels up each day. And, unlike many smoothies or juices, it's also packed with fiber. (Thanks, chia seeds!)
Green protein breakfast smoothie
It's goodness in a glass.
Green Breakfast Smoothie Benefits
Each element of this healthy, tasty mix has been specially selected for it's nutritional properties. Most of them do multiple jobs – providing a mix of either protein, calcium, potassium, with delicious doses of vitamin c or iron, etc.
Avocado: Filled to the brim with potassium, vitamin c, vitamin b, iron – but most importantly, loads of good fats!
Spinach: Packed with protein, calcium, iron and potassium.
Banana: Another potassium powerhouse, with an added vitamin c kick.
Clementines / Tangerines: Both of these are dosing you up on serious vitamin C vibes, and potassium.
Chia Seeds: These little grains of magic are all about protein, calcium and iron. Incredibly nutrient-dense little orbs, actually! (It's a good idea to soak your chia seeds for at least ten minutes before blending to activate their ooey goodness.)
Almond Milk: Liquid love filled with calcium, protein and iron.
Geek out on all the amazing things the ingredients of this green protein avocado breakfast smoothie recipe will do for your body, just like I did!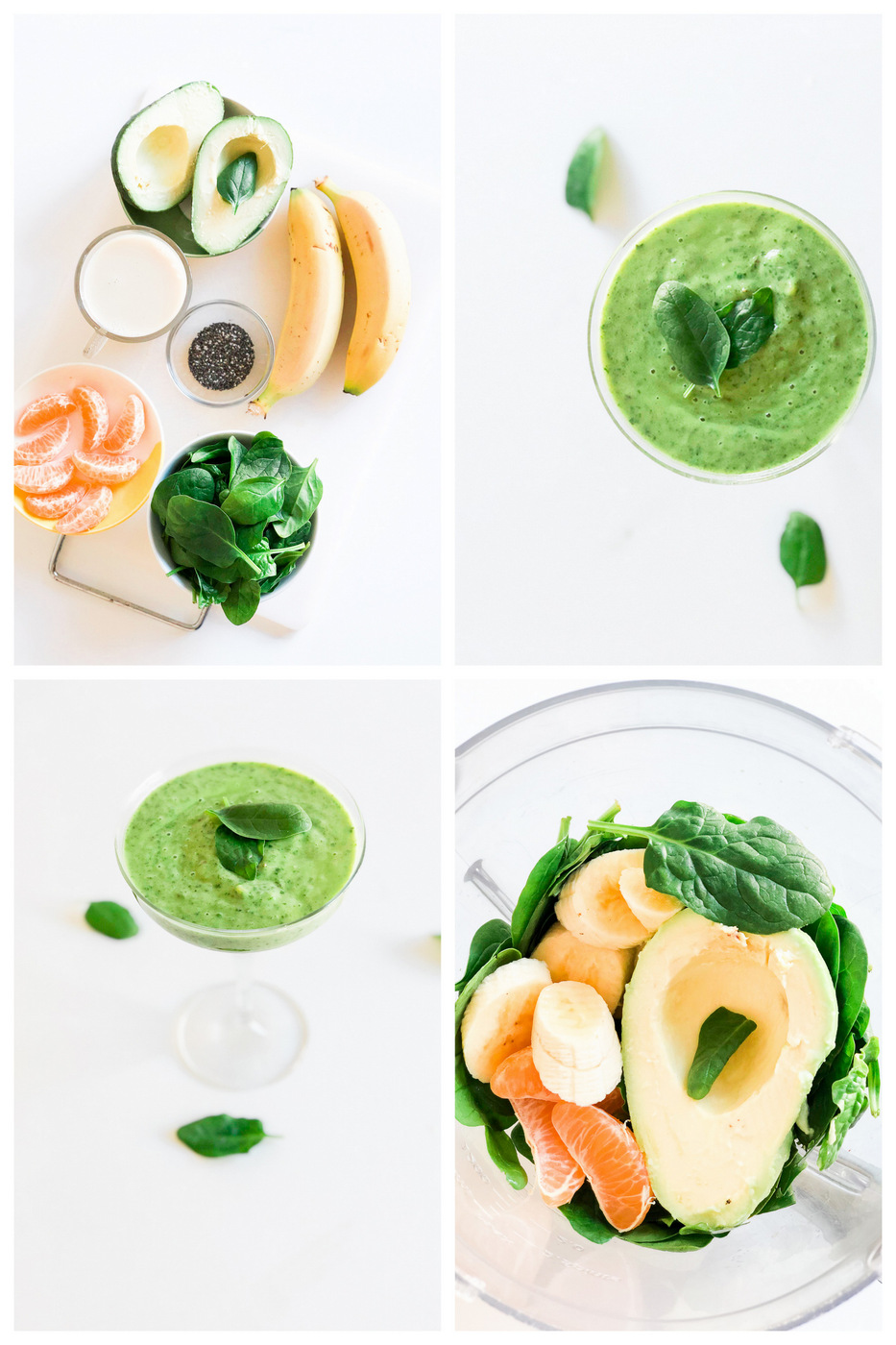 Breakfast OR Lunch-sized Serving
This green avocado smoothie recipe makes around 1 liter of green smoothie bliss. A 500ml serving is the perfect-sized portion for my breakfast or lunch, giving me enough for two days.
Green protein avocado breakfast smoothie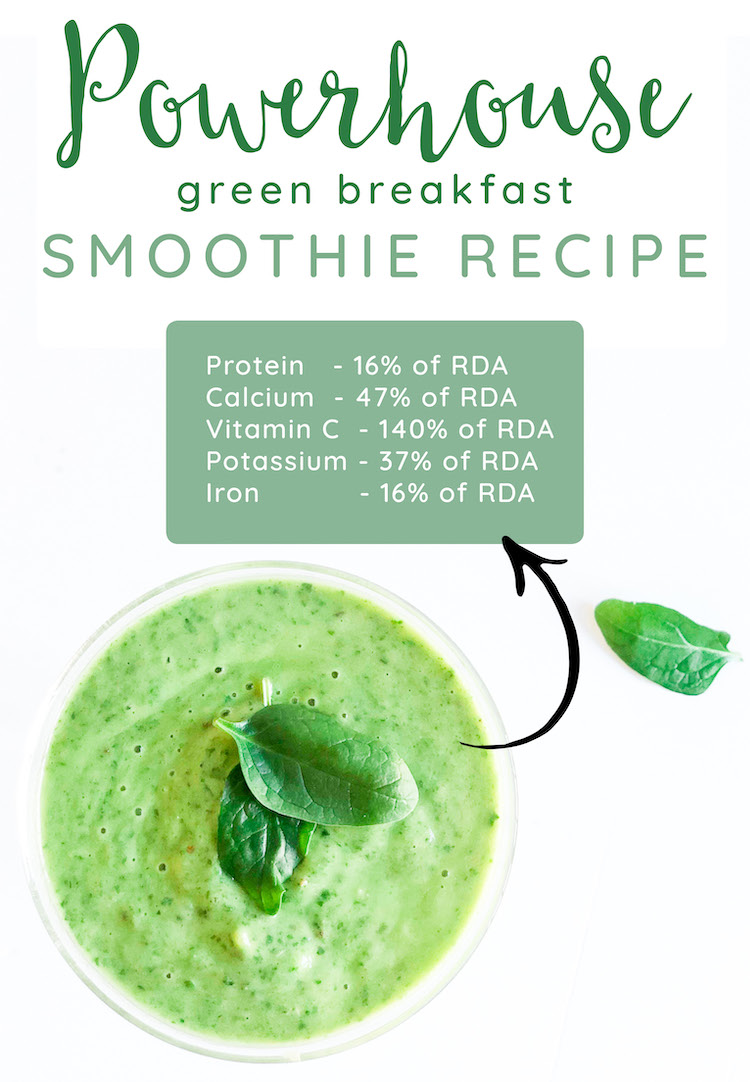 Nutritional Breakdown per 500ml serving
 These percentages for this green protein avocado breakfast smoothie recipe are roughly based on the standard recommended daily allowances for an adult female.
(Just remember, guys, I'm not a medical professional or dietician! Always check with a professional for health advice, it's super important!)
Protein: +/-  16% of RDA
Calcium: 

+/- 

47% of RDA
Vitamin C:  

+/- 

140% of RDA
Potassium:

+/- 

37% of RDA
Iron:

+/-

  16% of RDA
Want even MORE protein?
Play around with some of these plant-based protein smoothie boosters!
2 tablespoons of peanut butter adds 7 grams of protein
1,5 tablespoons of chia seed adds 5 grams of plant-based protein
250g of low-fat vegan yogurt adds around 3 grams
2 extra cups of spinach adds another 2 grams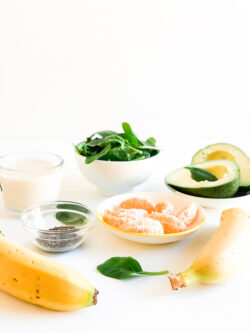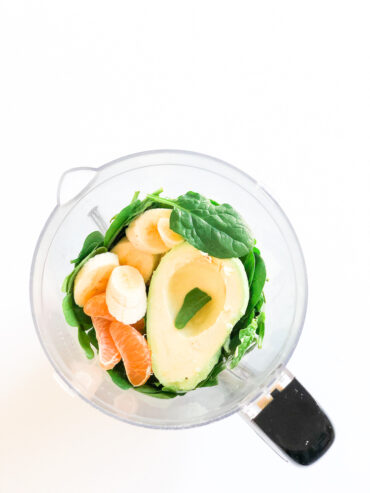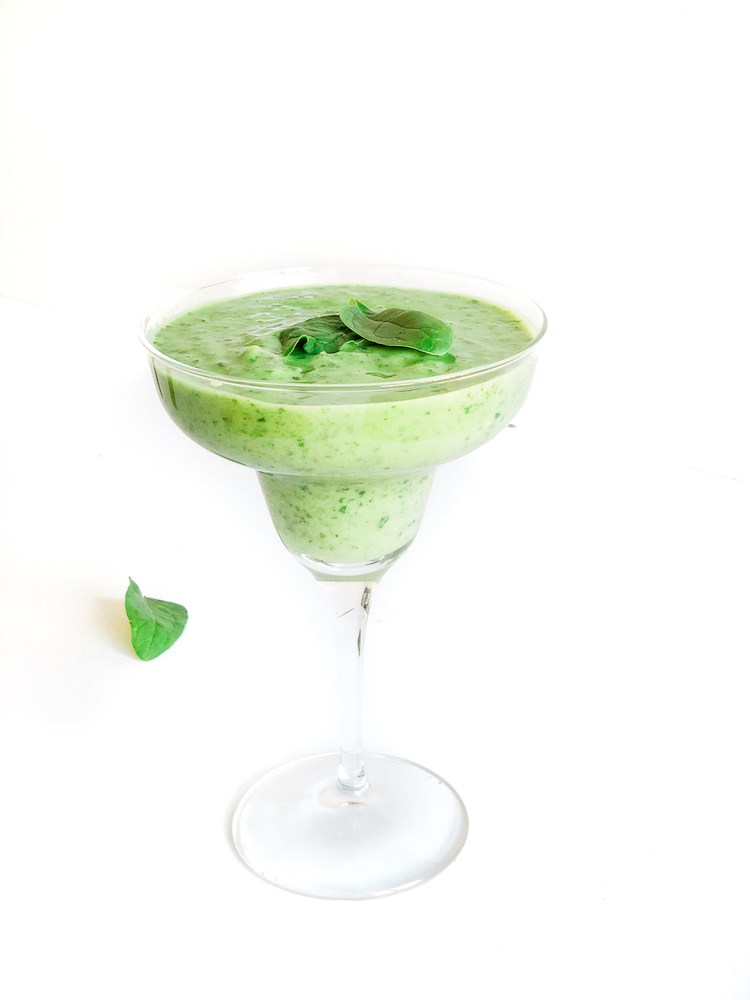 Green Protein: Avocado Breakfast Smoothie Recipe
The Ultimate Green Protein Avocado Breakfast Smoothie Recipe
Prep time:
Cook time:
Total time: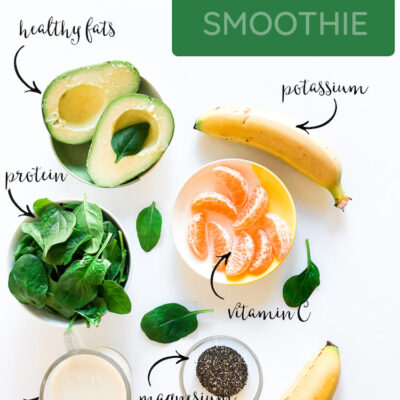 Ingredients
1 Medium Avocado
2 Medium Bananas
1.50 tbsp Chia Seeds
1.50 cups, Almond Milk
3 cups raw spinach
3 Clementine / Naartjies
1.50 cups Water
Instructions
Put the chia seeds in the cup of water to start soaking. Approx 5 - 10 minutes should do it.
Peel and add the fruit, and rest of the ingredients to the blender.
Add cup of water with soaked chia seeds.
Blend for a few minutes, till smooth and creamy.
Notes
Add more water, bit by bit for a thinner consistency
See list above for ways to add even more vegan protein to this green breakfast smoothie
READ NEXT: Raw Beetroot + ginger winter warmer veggie juice
– it's a zinger!